Residential Design Guidelines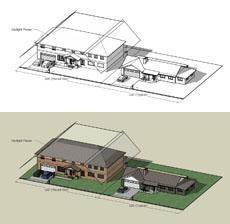 Residential Design Guidelines Studies:
The City of Bellevue Washington hired 3DA to help them do design guideline studies and graphics for future single family residential development. The developmental guidelines where proscriptive in nature to help curve the current trend for builders and home owners to build out to the maximum code allowed and block adjacent properties natural light and views. The impact of large houses maxed out in all directions based on local codes that had not anticipated this had led to a negaitive aesthetic as well as over crowded and dense single family residential neighborhoods.
The City of Bellevue decided that it needed to study the conditions and establish appropriate guidelines that would help reduce the negative impact of current "overbuilding" and hopefully improve the aesthetic qualities of future development. Multiple typical lot sizes and zoning ordinances were evaluated and studied. The studies were done in both color and black and white for different forms of distribution requirements. Below are samples of the indepth studies that were done.

In addition actual case studies of existing structures were performed to demonstrate how the new guidelines would affect future development. The studies were performed via photo modifications.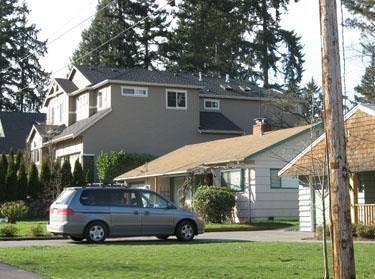 BEFORE: Residential Setback Study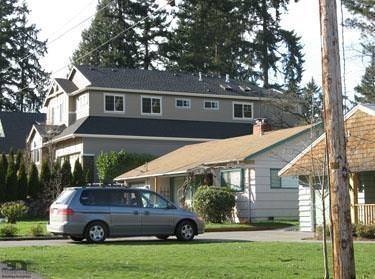 AFTER: Residential Setback Study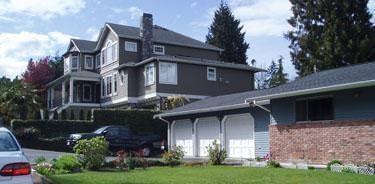 BEFORE: Daylight Plane Study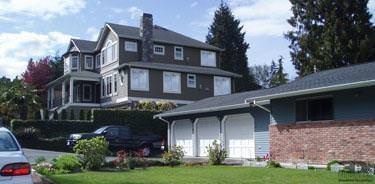 AFTER: Daylight Plane Study
The final product was a package of illustrations, colored imagery and manipulated photography of real world scenarios to demonstrate the intent and impact of the new developmental guidelines.